EVIDENS DE BEAUTE
Asia & WW Travel Retail Director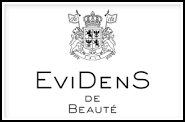 Our French-Japanese luxury cosmetics brand perfectly embodies high-tech expertise from Japan and French elegance and refinement, offering Japanese cosmetics and beauty products for women worldwide that meet their facial and body care needs.

EviDenS de Beauté skin care products offer significant and visible results after only two weeks, thanks to an exclusive ingredient of Japanese origin: Triple Collagen®, and an effective moisturizing ingredient from France: La Foux Spring Water. Our brand also boasts extensive expertise in masks, which provide highly effective action, sensory quality and meet a wide range of skin care needs.

Since its inception, EviDenS de Beauté has shown buoyant growth and is now present in over 26 countries with more than 600 spa and retail outlets around the world. Today, EviDenS de Beauté has corners in the most prestigious stores (Harrods in London, Tsum and Gum in Moscow), on leading airlines (Cathay Pacific, Aeroflot, Air China, etc) and in China on TMALL flagship store online platform. It also enjoys an exclusive global partnership with Rosewood Hotels & Resorts, featuring in each of its spas worldwide (Hotel de Crillon, Rosewood Hong Kong, etc).


To manage the development of the Brand in China and Japan, and to open new key markets in Asia and in Travel Retail, EviDens de Beauté is looking for its

ASIA & WW TRAVEL RETAIL DIRECTOR

(Position based in Paris 75016)
Objectives and responsibilities
Based in : PARIS / France - PARIS REGION
Contract : 11/2020 - permanent
Reporting to the General Manager you are responsible fo the development of EviDenS de Beauté in Asia and in Travel Retail worldwide; more specifically :

- you are the Ambassador of the Brand in your markets.

- you manage the distributor in China with a true collaborative approach, partnering with him in the strategic development of the Brand moving from e-commerce only to an omnichannel distribution. You can count on a dedicated team in HQ with native Chinese staff to support you.

- you look for new markets opportunities in Asia with a priority to the following key markets : South Korea, Taiwan, Singapore, Hong Kong.

- you develop the Travel Retail channel worldwide in a very selective way with a short-term strategic priority in Asia (Korea, etc).

- you are responsible for your P&L focusing at sales and profit growth while building the image and awareness of the Brand.
---
Function skills : sales ( export sales to agent / importer / distributor - sales to travel retail - sales to key accounts )
Product skills : beauty ( skin care )
Product category : Luxury
Business sectors : manufacturer ( beauty )
- You are an experienced international Manager in the Beauty industry with a strong regional focus in Asia and more specifically in China, Korea, Taiwan, Singapore, Hong Kong.

- Your knowledge of the omnichannel distribution in China allows you to be the right strategic partner to the distributor.

- You are experienced in both local markets and in Travel Retail.

- You are both a structured & agile person in order to perform in a small but both well organised & entrepreneurial environment.

- You have a real understanding of high quality, premium products and of luxury codes in general.

- You are ready to travel on a regular basis.

---
Experience years : 10 to 15
Language skills : english (business proficient)